ABOUT THE APP
HOW TO EARN POINTS
Welcome to 85°C Sweet Rewards.
Join today to earn points and rewards!

ACCUMULATE POINTS
Scan member QR code at the register or tell the store associate your membership number during check out.

CHOOSE YOUR REWARD
Points can be used to exchange for rewards. Choose from a large selection of available rewards.

REDEEM IN-STORE
Choose desired reward to redeem and show the reward QR code at the register.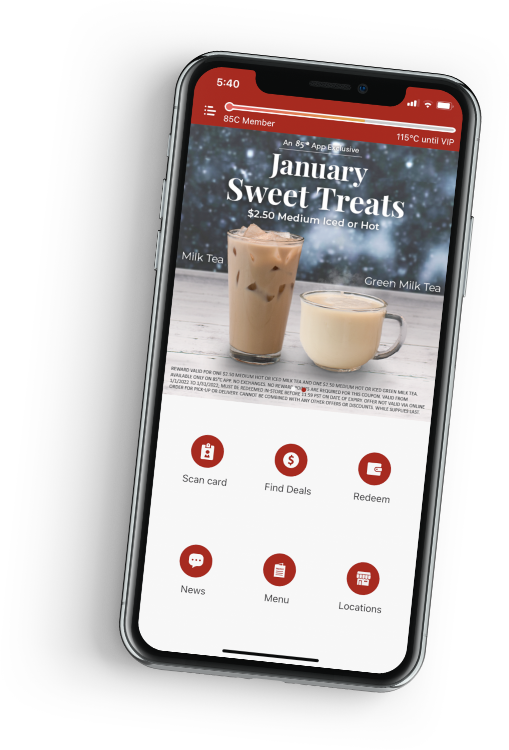 ADD MISSING POINTS
FORGOT TO SCAN DURING A RECENT TRANSACTION?
VIP STATUS
We love that we're your favorite! You're our favorite, too, and that's why we've got some extra sweet rewards for you.
Quarterly rewards distributed the first week of January, April, July and October. This reward is valid for one FREE Medium Sea Salt Drink ONLY
A FREE slice of birthday cake during the month of your birthday. Check your "Redeem" cache – these are sent especially for you!
FAQs
Permissions and Privacy
What is my membership number?
Your membership number is the phone number used when registering for the Sweet Rewards program. It can be found at the bottom of your member QR code after opening "Scan Card" from the main page.
If you change your phone number under "Profile", your member ID will also change.
How do I sign up for the email newsletter?
When first signing up for the Sweet Rewards program via the App the option to receive email communications is presented. If you wish to change your selection at a later date, this can be done via "Profile" under "My 85°C" on the side menu.
Did not receive a verification code? How do I get this?
Please verify that your phone software and 85°C APP are updated to the most current version.
Make sure SMS communications are enabled for the 85°C App within your phone's settings.
Text UNSTOP to 855-445-8585. Retry registration.
Please call your mobile carrier (T-Mobile, AT&T, Sprint, etc.) to ask that they enable receipt of "short code messaging" from all numbers for your account. After it is enabled, please retry registration.
Still having trouble? Just send us an email at appcustomercare@85cbakerycafe.comor call 714-525-8585 to speak with a representative.
Why does 85°C App request permissions for location and to send/receive text messages when I register?
In order to find the store nearest to your current location we ask permission to access this information. You are free to deny access, but we cannot guarantee that all App functions will work as they should.
For security purposes, we require that you confirm the mobile cell number entered during registration by sending a text message with a verification code to your number. This verification code must be filled in to complete registration and use the Sweet Rewards Program.
In the event that you forget your password, we will also send a new password to you via text message. Texting and data charges may apply according to your mobile carrier
How does 85°C Bakery Cafe manage personal information?
Please look at our Privacy Policy for this information, found on the App in the side menu under "Info", "Help", "Q&A."
App Functions
Can I send a gift to a friend via the app?
Yes, if the person you want to send a gift to is registered on the App as a Sweet Rewards member, any rewards already in your redeem cache can be sent to another Sweet Rewards member as a gift. Pull up the reward from "Redeem" and select "Send as Gift" and enter their mobile number appear.
If a reward couldn't be sent, it may be that the desired recipient is not a registered member of the Sweet Rewards program, or else is registered under a different mobile number. Please confirm their status.
What does the "Scan Card" function do?
"Scan Card" opens up your special member QR code, the method through which points earned during transactions are accrued to your account. Present this to the store associate when checking out to scan the code.
I'm having problems with my 85°C Bakery Cafe App. What do I do?
TERMS AND CONDITIONS
FOR THE 85°C BAKERY CAFE APP AND SWEET REWARDS PROGRAM
Updated: July 23, 2018
Perfect 85 Degrees C, Inc., its subsidiaries and affiliated companies (collectively, "85°C," "Company," "we," or "us"), as a convenience to you, grants you access to the 85°C Bakery Cafe mobile application (the "App") and the 85°C Bakery Cafe Sweet Rewards Program (the "Program"), conditioned on your acceptance of the terms, conditions and notices contained herein (these "Terms and Conditions"). These Terms and Conditions do not apply to any other website, mobile app, product, service or program offered by us. Through your use of the App and/or your participation in the Program, you are expressly agreeing to comply with these Terms and Conditions. You are also subject to the 85°C Privacy Policy (located at http://www.85cbakerycafe.com/privacy-policy/). You agree that 85°C may amend these Terms and Conditions and the Privacy Policy at any time and from time to time, with or without notice to you. Additionally, through use of the App and/or participation in the Program, you waive any rights you may have to specific notice of such amendments should they occur. In the event of any amendments to these Terms and Conditions, your continued use of the App and/or participation in the Program signifies your acceptance to the amended Terms and Conditions. We encourage you to review these Terms and Conditions frequently to thoroughly understand the contents herein. In addition, 85°C may discontinue or change, from time to time, the App and the Program without any prior notice. PLEASE REVIEW THESE TERMS AND CONDITIONS CAREFULLY. BY USING THE APP AND/OR PARTICIPATING IN THE PROGRAM, YOU AGREE TO BE BOUND BY AND COMPLY WITH THESE TERMS AND CONDITIONS AND ALL TERMS INCORPORATED BY REFERENCE. IF YOU DO NOT AGREE TO THESE TERMS AND CONDITIONS IN THEIR PRESENT FORM YOU MUST STOP USING THE APP AND STOP PARTICIPATING IN THE PROGRAM.
ELIGIBILITY
The App and Program are intended for personal, non-commercial use only, and are not targeted towards nor intended to be used by minors under 13 years of age. Minors between the ages of 13 and 18 may only use the App and/or participate in the Program while under the supervision of a legal guardian who agrees to be bound by and is in compliance with these Terms and Conditions. By using the App and/or participating in the Program, you certify that you are at least 13 years old. Additionally, participants in the Program must: (1) have a valid US mobile phone number; (2) have an active, valid e-mail address; and (3) be a human being. Corporations, groups, and other business entities are not eligible to participate nor are technological beings or entities, regardless of their definition under common law. You may not use the App or Program for any purpose that intentionally or unintentionally violates these Terms and Conditions, be it in letter or spirit. This includes but is not limited to any actions that (a) may result in damage to the App, Program or 85°C; (b) is defamatory, abusive, obscene, suggestive, harassing, threatening, inflammatory, fraudulent or similarly unacceptable (c) is linked to the commercial resale of 85°C Bakery Cafe products without explicit prior written consent of 85°C and (d) attempts to or actually interrupts the operations of the App, Program or 85°C's business. Additionally, you may not use the App and/or Program in any way that violates applicable laws, causes damage to any third party and/or infringes on the rights of any third party. You agree to defend, indemnify and hold 85°C, its vendors and service providers, and each of their respective employees, officers and directors, harmless from and against any actual or threatened demands of any kind or nature arising out of or in connection with your violation of these Terms and Conditions. There are no fees charged by 85°C to use the App or participate in the Program (other than purchases you may make through the App); however, you are responsible for any fees relating to mobile phone, mobile carrier and/or data use accrued in conjunction with usage of the App and/or participation in the Program. You are also responsible for payment of any transactions conducted via the App and/or Program.

DOWNLOADING THE APP AND JOINING THE PROGRAM
You may access some but not necessarily all functions of the App without becoming a member of the Program simply by downloading the App. In order access all functions of the App, you must create a member account in the Program (a "Member Account"). This requires that you (1) download the App, (2) provide a first and last name, (3) provide an active and valid email address, (4) provide your phone number, and (5) provide a password. Any other information such as your birthdate may be optional, depending on the practices of 85°C at the particular point in time. Your Member Account pertains uniquely to you; it may not be sold, transferred, shared with or assigned to any other party, nor can it be used by you for commercial purposes of any nature. You may not maintain more than one Member Account; in other words, every person is limited to one (1) Member Account. Participation in the Program requires download of and occurs through use of the App. Your Member Account number or in-App QR code may be required to be presented in connection with a transaction or activity. Presently or in the future, a social media account may be required in order to complete actions related to the Program and/or App.

THE PROGRAM: EARNING POINTS
The benefits offered through the Program are based upon "Points" that you earn, as well as a number of special promotions (which special promotions may have separate and/or additional terms and conditions). Points can be earned by making purchases at participating 85°C Bakery Cafe locations in the U.S. or via in-App payment methods if available. If purchases are made at a physical store location, the QR code generated by the App must be scanned at the time of purchase. It is your sole responsibility to present the QR code (accessibly by pressing the "Scan Card" button in on the Home Page of the App or via "Scan Card" under "Home" in the side menu) to a store associate at time of purchase. Purchases made without using in-App payment methods or without scanning the QR code at time of purchase will not earn Points, nor will Points be retroactively credited to your Member Account when you make a transaction without using the in-App payment methods and/or without presenting your QR code to a store associate for scanning. You will earn Points based on the value of your purchase at the rate of one (1) Point for each whole dollar ($1.00) you spend at participating 85°C Bakery Cafe locations. For example, a purchase of $5.60 results in five (5) Points begin accumulated. Fractional amounts are not stored in the system nor are they added to subsequent purchases. As such, a purchase of $2.60 followed by a second purchase of $1.60 results in two (2) Points being earned from the first purchase followed by one (1) Point being earned on the second purchase, for a total of three (3) Points. A qualifying transaction will only earn Points for the Member Account associated with the QR code scanned at the time of purchase. Points cannot be combined or shared among Member Accounts. Some exclusions may apply. For instance, depending on the operating practices of 85°C at the time, the discount value of coupons and other rewards being redeemed, purchases of gift cards or charitable donations may not be eligible to earn Points. Furthermore, taxes, tips, and any fees (for example shipping and handling fees, service fees, gift wrapping fees, delivery fees, and bag fees) may also not be eligible to earn Points, depending on the then-current practices of 85°C. Points can only be accrued to the US-based App and a US-based Member Account via purchases made within the US. Likewise, purchases made within the US may only accrue to the US-based App and a US-based Member Account and not to any other apps or rewards programs of any other countries in which 85°C operates. Under normal operating conditions, your Member Account is updated with Points from any qualifying purchases within seventy-two (72) hours of your qualifying purchase. The Points in your Member Account available for use at any set point in time is equal to the total number of Points earned minus the aggregate amount of Points already converted into Rewards (as defined below). When a transaction that accumulated Points to your account is returned or voided (such as when you return the goods purchased), 85°C will deduct the applicable Points from your Member Account. In the event that the number of Points deducted is equal to or greater than the number of Points in your Member Account, the Point balance will return to zero (0). Points and exchange history can be viewed from "Reward Points" under "My 85°C" on the side menu of the App. From time to time, 85°C or others acting with our permission may offer special promotions that provide Program members opportunities to earn Points at a faster rate. Examples of such special promotions may include, but are not limited to, "Double-Points Days," "Double Point Items" and "Triple-Point Items." 85°C, in its sole and absolute discretion, may also offer opportunities to earn Points without first requiring purchase of 85°C Bakery Cafe items. Examples of such opportunities include, but are not limited to, points earned from the in-App game(s), if any, and 85°C Bakery Cafe grand opening promotions. Points will be awarded according to the description and/or terms and conditions set forth in the respective promotional offer.

THE PROGRAM: POINT EXCHANGE AND REWARD REDEMPTION
Points may be exchanged for reward coupons ("Rewards"). Reward availability is determined by 85°C in its sole and absolute discretion. Points have no cash value and cannot be transferred or sold; in other words, Points can only be exchanged for Rewards. POINTS ARE DEDUCTED AT TIME OF REWARD EXCHANGE AND WILL NOT BE REFUNDED ONCE THE EXCHANGE HAS OCCURRED, REGARLESS OF WHETHER REWARD IS REDEEMED. There are two repositories for Rewards on the App: "Find Deals" and "Redeem." "Find Deals" functions as an in-app marketplace from which Program members may browse available Rewards and select the Rewards for which to exchange with Points. Once exchanged for Points, Rewards automatically move into the "Redeem" section where they will be available to redeem goods, discounts, opportunities or other rewards as stated on the Reward coupon, subject to any additional terms and conditions listed therein. Currently, there are two types of Rewards: (1) free Rewards that do not require exchange of Points to acquire, and (2) Rewards requiring exchange of Points to acquire. Free Rewards may appear in either the "Find Deals" section, to be exchanged for a sum of zero (0) Points, or the free Rewards may be directly deposited into the "Redeem" section for direct use. Rewards may only be redeemed by Program members meeting the applicable requirements, such as (1) the required number of Points, or (2) other status requirements such as VIP Member status or dates (such as Rewards based on your birthday). Some Rewards may only be available to residents of a particular state or geographic area, as determined by 85°C in its sole and absolute discretion. CERTAIN REWARD OFFERS ARE AVAILABLE IN "FIND DEALS" ONLY FOR A LIMITED PERIOD OF TIME, AS DETERMINED BY 85°C IN ITS SOLE AND ABSOLUTE DISCRETION. REWARDS MAY ALSO HAVE SET DATES OF VALIDITY DURING WHICH THE REWARD MUST BE REDEEMED IN-STORE, SUBJECT TO ANY ADDITIONAL TERMS CONTAINED ON THE REWARD COUPON OR WITHIN THE APP. Reward redemption is also subject to availability of supplies and are distributed on a first-come first-served basis. Substitutions may be made by 85°C in its sole and absolute discretion. To receive the offer stated on the Reward, Program members must open the Rewards QR Code, accessible by clicking on "Redeem" on the desired Reward coupon in the App and presenting the respective QR code to a store clerk for scanning or self-scan at a kiosk at one of the participating 85°C Bakery Cafe locations. There is no limit on the number of Rewards that can be redeemed in a single transaction. Reward redemption is also subject to any additional terms and conditions stated on each particular Reward coupon. Each time you redeem a Reward, 85°C will remove the Reward from your Member Account. Currently, Rewards (but not Points) may be transferred to another Program member via the App by entering the recipient's telephone number. Rewards have no cash value and cannot be sold or exchanged. You may not redeem any Rewards (including Welcome Rewards, Birthday Rewards or any other Reward offered via the App and/or the Program) for cash, except as required by law. If a particular Reward is not fully used when redeemed, the remaining balance of the Reward will not be refunded, nor will any remaining balance be available for application toward future purchases. These Terms and Conditions apply to any and all Rewards given through the Program. Each Reward may be subject to additional terms and conditions set forth on the particular Reward coupon or within the App.

THE PROGRAM: VIP MEMBER STATUS AND DEGREES
Currently, there are two levels of benefits within the Program that are determined by the number of Degrees you accumulate in your account each year: 85C Member status and VIP status. "Degrees" (indicated by "#˚C" in the App) accumulate at the same rate and under the same criteria as Points but are different in that they cannot be exchanged for Rewards and are never reduced except through expiry. Degrees expire three hundred sixty-five days (365) after accrual, beginning on the day they are updated in the system to a Member Account. One (1) Degree is accumulated for every whole dollar ($1.00) spent. As with Points, Degrees do not accumulate fractionally. Degrees are used solely to determine Program membership levels. You are automatically enrolled in the Program as a 85C Member upon registration. If you earn at least two hundred eighty-five (285) Degrees within a three hundred sixty-five (365) day period, you will qualify for a status upgrade to a VIP Member, as demarked by the thermometer at the top of the Home Screen as well as the member's QR Code under "Scan Card." Once a member becomes a VIP Member, the member will receive the benefits that are applicable at that time to that level for a period of three hundred sixty-five (365) days starting the date from which the VIP Member status was attained. Once a member reaches VIP Member status, the member must earn at least two hundred eighty-five (285) Degrees during the next three hundred sixty-five (365) days following the date the member became a VIP Member to retain their status as a VIP Member. If this amount is not reached by that time, the member status will be demoted back to a General Member until two hundred and eighty-five (285) Degrees are once again accumulated within a three hundred sixty-five (365) day period. 85°C reserves the right to change the number of member status levels and to change the benefits and Rewards associated with each level at any time, in its sole and absolute discretion.

THE PROGRAM: GENERAL MEMBER AND VIP MEMBER REWARDS
GENERAL MEMBER REWARDS
Currently, all members (General Members and VIP Members) have access to all features of the App, as well as all Reward coupons and Promotions found within the "Find Deals" section of the App or directly distributed to the "Redeem" section of the App that do not have VIP Member or other status restrictions placed upon them, subject to these Terms and Conditions and any additional terms and conditions set forth on each Reward coupon.

VIP MEMBER REWARDS
VIP Member Rewards include all the Rewards available to General Members, as well as additional Rewards, subject to availability and the discretion of 85°C. Current VIP Member Rewards are as follows: 1) Birthday Reward: Birthday Cake SliceVIP Members may receive one (1) free slice of cake each calendar year, redeemable only during month of the VIP Member's birthday and subject to availability and other restrictions as determined by 85°C at time of redemption or as set forth on the Reward coupon. To qualify for the VIP Member Birthday Reward, the VIP Member must have entered a valid birthdate when he/she initially registered a Member Account. VIP Member status must also be earned no less than seventy-two (72) hours before the first day of the month of the VIP Member's birthday in order for the Birthday Reward to appear on the VIP Member's Member Account. 2) 85°C Quarterly Special RewardVIP Members may receive a Quarterly Special Reward coupon once every three (3) months (quarterly). The Reward associated with the Quarterly Special Reward coupon is determined by 85°C in its sole and absolute discretion. An example of a Quarterly Special Reward is one (1) free large (L) Sea Salt Tea. Once a member becomes a VIP Member, the VIP Member will receive his or her first 85°C Quarterly Special Reward coupon within six (6) months from the date on which he or she becomes a VIP Member. 85°C Quarterly Special Reward coupons are distributed on first of the month and must be used within the month distributed. If not redeemed by the end of the month distributed, the 85°C Quarterly Special Reward coupon will automatically expire. Example: An 85°C Quarterly Special Reward coupon distributed on May 1 must be redeemed before 11:59 PM on May 31. 3) Bonus Special Events and/or Special Feature MerchandiseAt certain times, and at the full discretion of 85°C, VIP Member may also receive a Reward coupon to allow the VIP Member to participate in a random selection to win the opportunity to attend to certain special events (e.g., a Taste Testing Special Event) or to receive special feature merchandise. The offer, timing and availability of such special events or special feature merchandise is at 85°C's sole and absolute discretion. The special events and special feature merchandise (including the process of selecting participants and/or winners) will be subject to these Terms and Conditions as well as any additional terms and conditions set forth on the official communications distributed concerning each respective special event and/or merchandise. For all special events, 85°C is not responsible for transportation, room or board of participants, nor is 85°C responsible for compensation to a VIP Member in the event of sickness, schedule conflicts, rescheduling of event dates, or transportation and logistical difficulties. For all Taste Testing Special Events, you acknowledge that 85°C prepares foods in commercial kitchens where cross-contact with food allergens is possible. While we take industry-standard precautions to verify ingredients, nutrition data and allergen information, and take efforts to prevent cross contamination of ingredients, there is a possibility that food manufacturers change their product formulation without notice. Accordingly, actual ingredients and nutritional content may vary and we cannot guarantee that any food item will be completely free of food allergens. 85°C does not assume any liability for adverse reactions to foods consumed or items one may come in contact with, while eating at any Taste Testing Special Event. IT IS THE RESPONSIBILITY OF THE CUSTOMER WITH FOOD ALLERGIES OR OTHER SPECIFIED NUTRITIONAL CONCERNS TO MAKE THE FINAL JUDGEMENT ON WHETHER TO EAT THE FOODS SELECTED. If you have questions about a particular item, please consult with the event hosts.

IN-APP GAMES
From time to time, as determined by 85°C in its sole and absolute discretion, 85°C may launch in-App game(s) (a "Game"). To participate, App users must be a Program member. The Game(s) may require the Program member to use Points in his or her Member Account (typically 1-5 Points, but as determined by 85°C in its sole and absolute discretion) and may provide the Program member with the opportunity to win special Rewards. Games (including any Rewards associated with each Game) may be subject to additional rules, terms and conditions, in addition to these Terms and Conditions. Eligibility and participation in a Game cannot be sold for cash or any other value and may only be used by the Program member. Members cannot manipulate Game or rules to derive extra benefit outside the bounds of the Game rules.

SPECIAL PROMOTIONAL
85°C may, at its own discretion, host special promotional offers and activities via the Program and/or on the App. Such special promotional offers will be subject to these Terms and Conditions as well as additional terms and conditions. Special promotional offers may or may not be distributed to the entire Program membership base. 85°C reserves the right to target specific Program members for eligibility to receive any given special promotional offer.

POINTS, DEGREES, VIP MEMBER STATUS AND REWARD COUPON TERMS OF USE AND EXPIRATION
IT'S THE HOPE OF 85°C THAT YOU EXCHANGE YOUR POINTS REGULARLY. ALL POINTS AND DEGREES EXPIRE WITHOUT CREDIT, PAYMENT, OR OTHER VALUE TO MEMBERS ONE (1) YEAR (THREE HUNDRED SIXTY-FIVE (365) DAYS) AFTER THEY ARE CREDITED TO A MEMBER ACCOUNT. POINTS AND DEGREES HAVE NO CASH VALUE AND MAY NOT BE REDEEMED FOR CASH, CREDIT, OR OTHER VALUE; ADDITONALLY, NO CREDIT, CASH, OR OTHER VALUE WILL BE GIVEN FOR UNUSED POINTS OR DEGREES. 85°C may, at its sole discretion, give Program members notice that unused Points, Degrees, Reward coupons, or VIP Member status are set to expire; however, it is not the obligation of 85°C to do so. 85°C reserves the right to change the Program at any time without notice, including but not limited to imposition of new Points and Degrees expiration dates and changes to Reward coupon validity dates. Unused, unexpired Points and Degrees in a Member Account and unused, unexpired Reward coupons are forfeited if the Program and/or App is terminated or the Program member withdraws from or cancels his/her Member Account. Rewards obtained with Points may not be returned for any credit, whether in the form of Points, cash, products, or otherwise. All Points and Degrees must be earned and used according to these Terms and Conditions. Points, Degrees, and Rewards are not transferable and may not be conveyed by any means to anyone (with the exception of Rewards shared via the App by using another Program member's phone number). App users and Program members must not at any time engage in, facilitate or further unlawful conduct; use any automated process or service to access and/or use the Program, the App, a Program or App site (such as a BOT, a spider, periodic caching of information stored by 85°C, or "meta-searching"); use any unauthorized means to modify or reroute, or attempt to modify or reroute, the Program and/or App; damage, disable, overburden, or impair the Program and/or App or interfere with anyone's use and enjoyment of the Program and/or App; or resell or redistribute the Program and/or App, or any part of the Program and/or App.

PAYMENT METHODS
The App currently does not host any in-App payment methods; however, 85°C reserves the right to change this at any time.

THIRD PARTY CONTENT
Via the App and/or the Program, 85°C may provide or require access to third-party content, links to web pages, and any embedded content contained therein. We may also use the services of third parties such as but not limited to Google, Facebook, Twitter and Instagram to make portions of the App or the Program available to you. The terms and conditions of the respective third-party sites govern your visit to and use of such sites, regardless of having attained access to them via the App and/or the Program and including any situations where your App and/or Member Account information is made available to these sites through their access. It is your sole responsibility to determine when you are accessing third-party content or services. 85°C's provision of any third-party content does not signify endorsement of such content or affiliation with the third party, nor does 85°C make any guarantee of its accuracy, completeness, reliability or suitability. Your use of this App and/or participation in the Program signifies agreement that you will not hold 85°C responsible or liable in any manner for any third-party content or services.

FEEDBACK AND SUBMISSIONS
Submission of any remarks, suggestions, opinions, feedback, reviews, material, information or other communications (each a "submission"), including those provided in connection with or via the Program and/or App or on a public-facing forum made available by 85°C, may be subject to 85°C's oversight, maintenance and censor; provided, however, 85°C assumes no obligation to do so. Additionally, all present and future ownership and intellectual property rights of any such submission shall be transferred to 85°C at its sole discretion. 85°C assumes no responsibility to treat a submission as confidential or to provide any compensation whatsoever for any submissions. We would like to emphasize that all submissions by App users and/or Program members are voluntary, and it is your sole choice to make any submission. You agree through your use of the App and/or participation in the Program that 85°C has the right, but not the obligation, to display and use and personal information provided by you within your submission or in connection with your submission, including but not limited to your user or Member Account name, likeness and other personal information. If any court determines that 85°C does not retain exclusive ownership of any submission, then 85°C retains a royalty free exclusive, perpetual, sublicensable (through multiple tiers) right and license to use, reproduce, cache, modify, display, publicly perform, transmit, adapt, publish, translate, create derivative works from and distribute the submission throughout the universe in any medium and through any methods of distribution, transmission and display whether now known or hereafter devised.

PRIVACY POLICY
85°C takes your privacy seriously. We also highly encourage you to review our Privacy Policy, found through the option "Privacy Policy" by navigating to "Help" located under "Info" on the App side menu, as well as found on the official 85°C Bakery Cafe website. Your use of the App and/or participation in the Program signify your acknowledgement and agreement with the terms contained in the Privacy Policy. 85°C retains the right to update, at its sole discretion, the content, terms, conditions, policies, and practices contained within the Privacy Policy; all updated versions will become effective upon publishing and will contain their date of publishing for your reference.

PROGRAM OPT OUT
Program members may opt out of the Program by contacting 85°C at 714-459-1685 or customerservice@85c-bakery.local. Once a member has opted out of the Program, such member may not earn additional Points in his or her Member Account, and the available Points balance, Degree balance and outstanding Rewards in the Member Account will expire immediately, not to be reinstituted should the account be reopened. In other words, once you opt out, if you decide to re-open a Member Account, your point balance will restart from zero (0) and any VIP Member status will have to be re-earned.

INTELLECTUAL PROPERTY
85°C Bakery Cafe, the 85°C Bakery Cafe logos, and Sweeten Your Life, are registered trademarks of 85°C. All other 85°C trademarks, service marks, logos, domain names, trade or company names, or indicia of origin ("branding") referred to on the App and Program are the property of 85°C. If situations where 85°C's branding are not registered, such as in other countries or in other legal jurisdictions, we assert all other rights typically given to such unregistered branding. All 85°C branding is the sole Intellectual Property of 85°C and is not conferred in any way to any App user or Program member simply via their use of or participation in either. The App and/or Program and all content contained within, such as visuals, text, articles, materials, messages, slogans, imagery, video, audio, software, configuration and pairings and others are the legal property of 85°C, or a third-party licensor, unless otherwise noted, and are protected by law. App users and/or Program members are only afforded limited and temporary access to content on the above and any disseminated content specifically allowed in connection with third-party functions, including content shared from and/or to a social media account, for informational purposes or as needed for transactional purposes. The resale, commercial use, distribution, public display or performance of the App and/or the Program and/or content in any way, whether in their original or a modified or derivative state, is prohibited and is not entailed part of this limited access. Similarly, any data extraction outside the normal and intended personal uses necessitated by access to the App and participation in the Program, such as data mining, spiders, robots, or other such data gathering methods, is expressly prohibited.

ACCOUNT TERMINATION
85°C reserves the right to, at its own discretion and without notice, suspend and/or terminate an App user and/or Program member's access to and participation in any and all portions of the App and/or Program at any time for any reason. In the event of a breach of these Terms and Conditions, 85°C also reserves the right to seek all other remedies available at law and in equity.

AMENDMENTS AND TERMINATIONS
At any time and in its full discretion, 85°C may, without notice, change, modify and/or end or cancel the App, Program and/or any specific Reward; change the requirements (monetary, spending, temporal, procedural or otherwise) for earning Points, attaining VIP Member status or other special member status, exchanging and/or redeeming a particular Reward; change any other feature of the Program; and/or suspend or terminate any Program membership and/or a member's participation in the Program. In the event that 85°C ends the Program, Reward coupons exchanged but not used will expire on the end date set forth on the Reward coupon and cannot be redeemed after the end date, unless otherwise stated. No credit or other value of any sort will be given for unused Rewards. The same holds for unused Points and any VIP Member status or other member status, or any other source, perceived or otherwise, of value related to usage of and participation in the App and/or Program.

DISCLAIMER OF WARRANTIES AND LIMITATION OF LIABILITIES
THE APP AND PROGRAM, AND ALL CONTENT THEREIN, INCLUDING ALL THIRD-PARTY CONTENT CONTAINED WITHIN OR ACCESSED VIA USE OR PARTICIPATION IN THE ABOVE, ARE PROVIDED TO YOU "AS IS," WITHOUT ANY WARRANTY OF ANY KIND, EITHER EXPRESS OR IMPLIED. 85°C MAKES REASONABLE EFFORTS TO KEEP INFORMATION REGARDING THE APP AND PROGRAM UP TO DATE AND ACCURATE, HOWEVER, WE CANNOT GUARANTEE THAT THE INFORMATION IS ALWAYS THE MOST CURRENT VERSION AVAILABLE, NOR THAT IT IS WITHOUT ERROR OR CONTAINS ALL INFORMATION AVAILBLE. TO THE MAXIMUM EXTENT PERMITTED BY LAW, 85°C, ITS SUPPLIERS AND SERVICE PROVIDERS, AND ALL RELEVENT EMPLOYEES, AGENTS AND SHAREHOLDERS ARE NOT LIABLE FOR ANY PAST, CURRENT AND/OR FUTURE LOSS OF BENEFIT AND/OR DAMAGES OF ANY FORM, WHETHER DIRECT, INDIRECT, OR OTHERWISE, ARISING OUT OF OR CONNECTED IN ANY WAY WITH THE APP AND/OR PROGRAM. THIS ENCOMPASES BUT IS NOT LIMITED TO LOSSES ARISING FROM BUSINESS DISRUPTION AND/OR TORT, DECISIONS BASED IN PART OR FULL ON INFORMATION OBTAINED FROM THE APP AND/OR PROGRAM, UNAUTHORIZED ACCESS TO, ALTERATION, THEFT OR DESTRUCTION OF ANY APP AND/OR MEMBER ACCOUNT(S), AND/OR FAILURES OF APP OR PROGRAM SUCH AS MISTAKES, OMISSIONS, INTERRUPTIONS, DEFECTS, ACCIDENTS, VIRUSES, MISUSE OR FRAUD, DELETION OF FILES OF ANY TYPE, UNAUTHORIZED USES OF THE APP AND/OR PROGRAM OR DATA, WHETHER OR NOT RESULTING FROM ACTS OF GOD, OR HUMAN MISTAKE, INTENTIONAL OR OTHERWISE. 85°C'S AGGREGATE LIABILITY UNDER ALL CIRCUMSTANCES AND IN ALL EVENTS WILL NOT EXCEED YOUR ACTUAL DAMAGES OR ONE HUNDRED DOLLARS ($100), WHICHEVER IS LESS.

GOVERNING LAW
These Terms and Conditions, your use of the App and your participation in the Program shall be governed in all respects by the laws of the State of California, without regard to choice of law provisions. You agree that jurisdiction over and venue in any legal proceeding directly or indirectly arising out of or relating to these Terms and Conditions, your use of the App and your participation in the Program shall be in the state or federal courts located in Orange County, California. Any cause of action or claim you may have with respect to these Terms and Conditions, your use of the App and your participation in the Program must be commenced within one (1) year after the claim or cause of action arises. 85°C's failure to insist upon or enforce strict performance of any provision of these Terms and Conditions shall not be construed as a waiver of any provision or right. Neither the course of conduct between the parties nor trade practice shall act to modify any of these Terms and Conditions.

GENERAL INFORMATION
In the event that any portion of these Terms and Conditions is deemed unlawful, void or unenforceable, then it will be deemed severable from these Terms and Conditions and excluded, with no impact whatsoever to the validity and enforcement of the remaining portions. Your rights and/or obligations may not be transferred in any way under these Terms and Conditions. All of 85°C's rights and obligations under these Terms and Conditions are freely assignable for any reason, including without limitation, in connection with a merger, acquisition, sale of assets, by operation of law or otherwise. Headings and titles in these Terms and Conditions are provided only for convenience and shall not in any way affect the meaning or scope of any portion of these Terms and Conditions.